We get to know Oxford-based Emily Dove, who joined BLUE in 2019 as an AE and has quickly risen through the ranks, becoming one of BLUE's youngest Account Managers and now our first Business Development Manager. Through her work at BLUE, Emily is proud to be contributing to the transformation of maritime towards a sustainable future. She's also well-known amongst the office as a competitive sportswoman – regularly challenging her team mates to games at the local tennis club!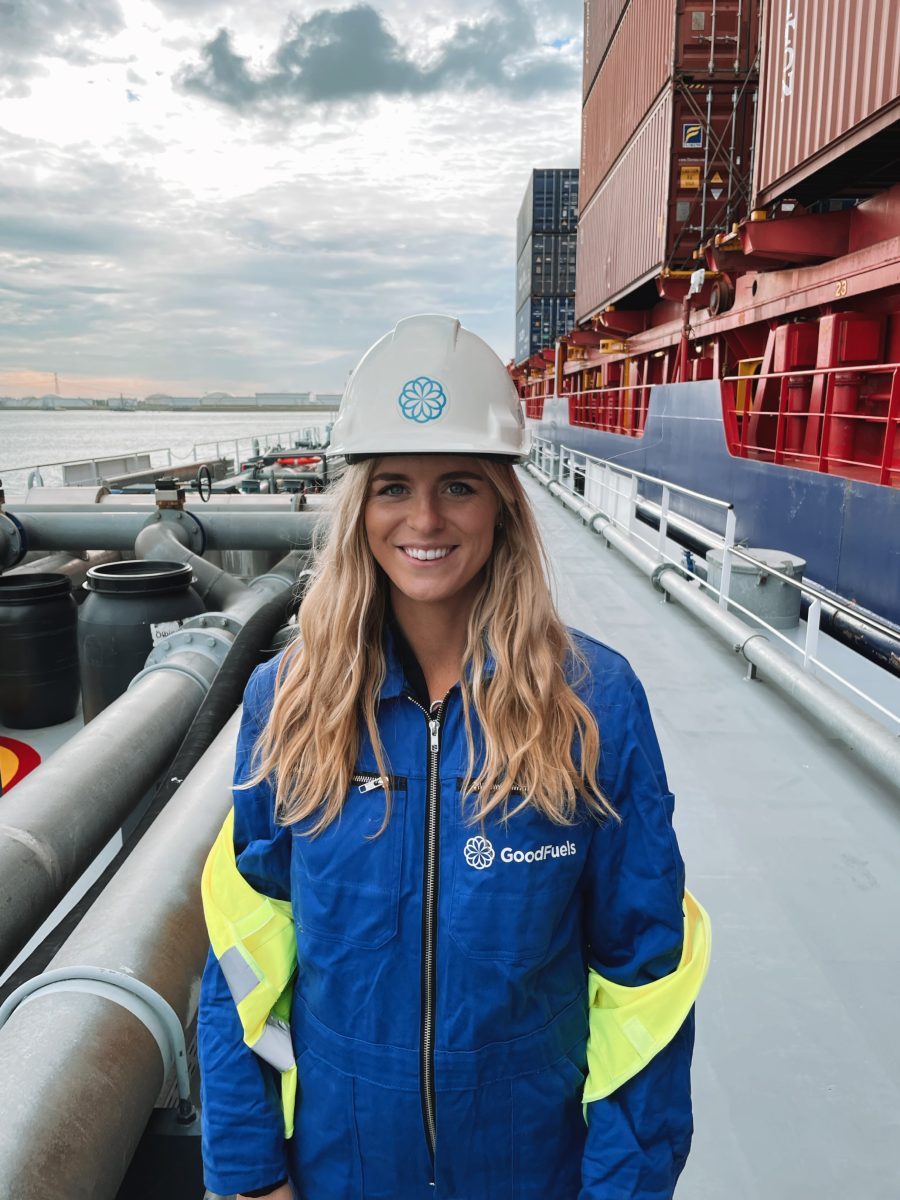 EMILY DOVE – SENIOR ACCOUNT MANAGER
 Favourite thing about working at BLUE?
BLUE is not your average PR agency. We work in a technical, challenging industry, but one in which we can actually influence conversations – and this is a hugely satisfying aspect of the role for me. I've been lucky enough to work with people and companies which are leading the charge in making the industry – and the world – more sustainable. Being part of these projects and initiatives that are genuinely making a difference is something I am very proud of.
I also feel very lucky to have a supportive team at BLUE who take the time to help me progress and improve my knowledge of both shipping and PR.
 Favourite thing to do outside of work?
Playing sport and keeping busy – I play national-level hockey (my team is currently first in an England hockey league) which helps me to keep motivated and strong. I love being part of a team and working together to achieve a common goal.
 What environmental issue do you wish people cared more about?
Deforestation.
 Your proudest moment? 
Being an account manager at the age of 25.
 What is your top working from home hack?
Lockdown is not something I found easy, as I like being surrounded by people. But I am grateful that we now have the flexible working options, so we can work from home or the office, which promotes a great work-life balance. My top tip would be to stick to a routine by planning as far in advance as possible, and organising your calendar well, ensuring you have time for breaks and check ins with colleagues. It's so important to build in the time to look after your body and mind – and for me that's walking, playing sport, eating healthily, and drinking coffee.
 What's your favourite maritime fact
That 90% of world trade is transported by sea – the most common fact, but one that highlights the real importance of the maritime industry.
 Most influential book you've read?
The Subtle Art of Not Giving a F*** (Mark Manson) and My Fight To The Top (Michelle Mone).
 Most exciting project you've worked on?
Since joining the BLUE team, I've had so many opportunities to develop myself professionally – a notable example of this was my secondment to one of BLUE's Amsterdam-based clients, which I completed last year. During my time there, I worked in a marketing capacity to improve communication flows, create written and visual content, and lead brand projects with partners. Subsequently, I went on a trip to Amsterdam, gaining practical insight into sustainable biofuel bunkering, which was a real privilege! 
I also really enjoyed working on two of BLUE's London International Shipping Week events.
 What do you love most about working in PR?
I most enjoy meeting and working with lots of people, and being able to tell their stories and share their experiences, resonating with different audiences through the power of PR.
 Country you'd most like to visit/best work trip?
I would most like to visit Singapore and Athens, Greece.